National Black Cat Day, taking place on 27 October 2017, is a time to recognise and reflect on the beautiful black cats brightening our lives and raise awareness of those awaiting a loving home. In the UK, black cats are considered to be lucky, whilst in Scotland seeing a black cat appear on your doorstep is a symbol of prosperity.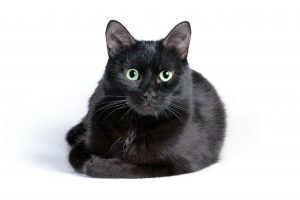 Cats are the world's most popular pets, however, over the years, black cats have been the unwilling and unwitting recipients of a variety of superstition.
Celtic mythology believed that fairies could take the form of black cats and by extension, having a black cat in the home was seen as lucky. However, the pilgrims of the seventeenth century were a devoutly religious culture, fearful of the pagan beliefs of their ancestors. It was at this time that the black cat became thought of as a vessel for demons and it was common practice to severely punish those people keeping black cats as pets.

Black Cats Deserve Better 
The suspicion, hostility and sometimes even death of black cats we still, unfortunately, see today in Western culture stems from historical beliefs and unfortunately the numbers from rehoming charities in the UK show that cats with black fur are less likely to be adopted than cats of another colour and more likely to be euthanased . According to the RSPCA, 70% of abandoned cats in their care are black, whilst the Cats Protection League states that in 2017 alone, black cats in their care took 13% longer to rehome than cats of any other colour. Between 2007 and 2013, Blue Cross saw a 65% rise in the number of black cats they took in annually. 
If you are thinking of rehoming a cat or purchasing a kitten remember black cats are just as affectionate as cats of other colours, so please consider giving a glossy black cat a forever home.
Andrew Monchar, Director, Two By Two Veterinary Centre